Feline Infectious Peritonitis
Tid: 3 oktober
Var: Webinar
Gratis för medlemmar som betalat medlemsavgift 2020

Schema:
09.00-09.45 Feline Infectious Peritonitis - how do we diagnose with confidence?
Till anmälan av kurs >>

10.00-10.45 Can we now treat Feline Infectious Peritonitis?
Till anmälan av kurs >>

11.00-11.45 Årsmöte. Vi lottar ut 3 böcker till närvarande medlemmar.
Till anmälan av årsmöte >>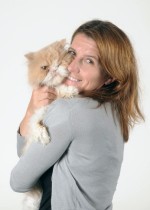 Séverine graduated from Bristol Veterinary School. She obtained the RCVS Diploma in Small Animal Medicine in 1999. She became a Diplomate of the European College of Veterinary Internal Medicine in 2003. She is an RCVS
Specialist in Feline Medicine. She is especially interested in feline infectious diseases and haematology and edited the BSAVA Manual of Feline Practice.
She sits on the Companion Animal Vector Borne Disease World Forum and the European Advisory Board on Cat Diseases.She is passionate about all things cats and having an holistic approach to feline medicine from adopting cat friendly practice techniques to pragmatic decision-making focusing on the cat's and the client's needs.